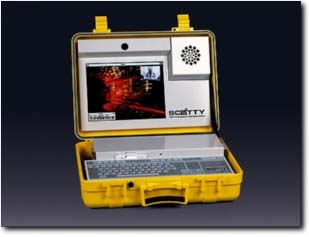 Unità mobile di videoconferenza SCOTTY
Cosa è
Sistema per la gestione integrata dei servizi multimediali tramite il terminale Inmarsat-B: videoconferenza, trasferimento di registrazioni video in alta qualità, servizi internet.
Dove è stato utilizzato
Essendo l'ultimo grido nella sua classe rappresenta la prima applicazione di Telecom Italia.
Dati tecnici

Display:
12,1" TFT, 1024 x 768 pixel
Luminance: 200 cd/m2
Camera:
Built in 1/3" CCD
752 x 582 pixel
470 TV lines
2 LUX
Lens: f = 8 mm
Video Input:
1 x composite 75 Ohm BNC
1 x composite 75 Ohm DB15 - 7W2
(together with 12 V output + RS-232)
Video Output:
1 x composite 75 Ohm - BNC
Multi I / O Card:
SCOTTY video (& audio) switching matrix
with preview function
Other features:
Video overlay up to full screen
Frame grabbing ("Snapshot" function)
Audio System
Microphone:
1 x built in mic
Speaker:
1 x 3 W
Audio Input:
1 x mic / line adjustable - RCA
Audio Output:
1 x line / headset adjustable - RCA
Other features:
Wide band acoustic echo canceller
Audio mixer for internal mic / external
audio input
Communication Unit
Computer:
Industrial Pentium PC (order specified)
Video Codec:
Hi-End H.320 Power - Videocodec
64 (56) kbit/s - 384 kbit/s
Frame rate:
Up to 30 frames/s
Data channel:
Off or 6400 -124800 bit/s
ISDN Adapter:
1-BRI (2B), CAPI 2.0
Data transfer:
SCOTTY high speed file transfer (parallel
to videoconference)
up to 62 kbit/s on a 64 kbit/s channel
up to 124 kbit/s on a 128 kbit/s channel
Options
IMUX:
External 3 BRI (6B) inverse multiplexer
("Bonding" standard)
Network interfaces:
RS-449 / RS-422 (or V.35, X.21, RS-530)
additional to ISDN
Dialing:
RS-366, DTMF
Codec upgrade:
(up to) 2 Mbit/s
Cameras:
External Sony EVI-D31 Pan-Tilt-Zoom
camera with SCOTTY control software
Wolfvision VZ-7D document camera with
SCOTTY control software
Software
SCOTTY Teleporter - including "Record & Forward"
Windows 95
T.120 Data Communication Package - File Transfer, Shared Whiteboard, Application Sharing
Standards
Standards:
H.320 (H.221, H.242, H.230, H.261, ...)
Transmission rate:
64 (56) - 384 kbit/s
Optional up to 2 Mbit/s
Video coding:
H.261 (CCITT / ITU-T)
Video resolution:
352 x 288 FULL CIF (send & receive)
176 x 144 QCIF
Video system:
PAL / NTSC
Audio coding:
G.728 (16 kbit/s)
G.722 (48/56 kbit/s)
G.711 (48/56 kbit/s)
ISDN standards:
ETSI ISDN (Euro-ISDN)
AT&T 5ESS
Northern Telecom DMS100
Japan INS64
National ISDN-1
Australian ISDN
Power
AC 90 - 260 V / 40 - 400 Hz
DC 10 - 32 V
Approx. 75 W
Dimensions
WxHxD 47 x 15 x 37 cm (19 x 6 x 15 inch)
13 kg (28 lb)